Coco: Review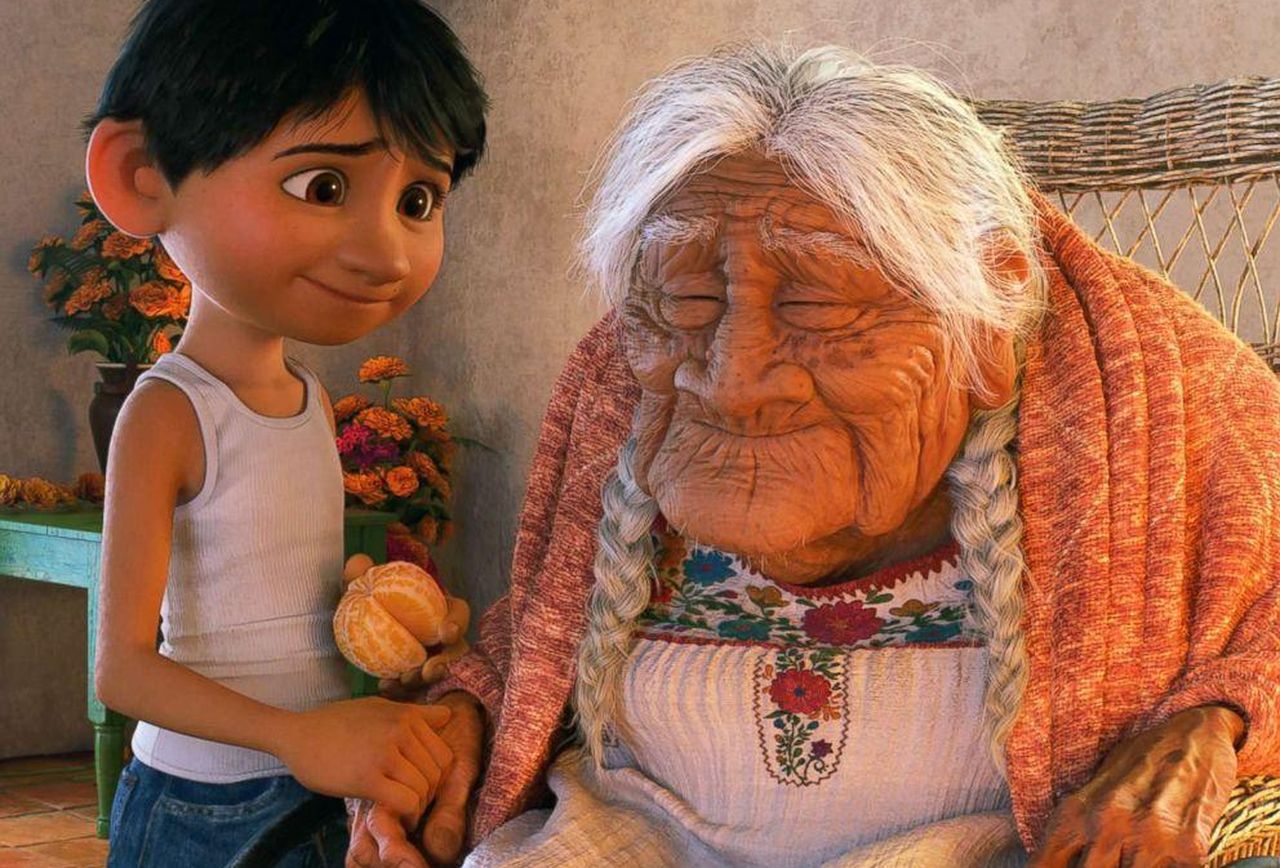 Captivating music is something special. A great song can bring people together: friends from different backgrounds, families in different homes, people in different generations. Twelve-year-old Miguel Rivera (Anthony Gonzalez) is one of the affected. Hidden and alone in his attic, he watches a black-and-white musical starring his deceased hometown hero: the greatest musician of all time, Ernesto de la Cruz (Benjamin Bratt). Whatever de la Cruz plays, Miguel imitates. He's all about music. But Miguel is the odd man out of his family. The Riveras are shoemakers. Indeed, Miguel's family is quite literally divorced from musicians: the patriarch, Miguel's great-great-grandfather and fellow musician, left his home to pursue a career in music, alone. Since then, every Rivera, from great-great-grandmother Mamá Imelda (Alanna Ubach) to Miguel, has made shoes. Hard-knock matriarch Abuelita Elena, (Renée Victor) Miguel's grandmother, knows that music has only brought her family pain. Her memory, however, is hazy—who exactly is this absentee father? The only links to the Riveras' origins are a torn photo of Mamá Imelda, her clad-in-white spouse (the picture is ripped where the man's head would be), and Coco (Ana Ofelia Murguía)—Miguel's still-living great-grandmother, Imelda's daughter.
Miguel doesn't care about his family's disgust towards music. He reveres de la Cruz, lighting candles in a small ofrenda in Cruz's honor while playing de la Cruz's songs. But Miguel might be closer to de la Cruz than he may think. By deductive observation, Miguel realizes that de la Cruz must be his great-great-grandfather—de la Cruz's guitar is identical to the guitar held by the musician in his family's photo. A stroke of great fortune—wouldn't his aspiration to be a musician be saved if Abuelita Elena knew of their brilliant ancestry? In his excitement to reveal this life-changing information to his family, Miguel is caught in the open with his guitar by Elena, who furiously smashes it. Heartbroken, Miguel runs away from his family. He finds himself in de la Cruz's mausoleum, strewn with marigold petals—after all, it's Día de Muertos. Miguel spots de la Cruz's guitar above the coffin. He picks it up and gives it a strum.
By some strange magic, Miguel is transported into a spirit realm. Invisible and panicking, he runs to the village graveyard, where—to his shock—he finds hundreds of skeletal ghosts in traditional Día de Muertos paint visiting their unknowing loved ones. Crossing the marigold bridge to the spectacular city of the dead, Miguel meets his family—his deceased family—who are led by Mamá Imelda herself. She's just as opposed to music as her living counterpart, and will only give Miguel blessing to return to the land of the living if he promises to never play music again. Miguel refuses and sets out to find the only one who could help him: Ernesto de la Cruz. Accompanied by Héctor (Gael Garcia Bernal), a down-on-his-luck skeleton with a goofy walk, Miguel must find a way into de la Cruz's mansion before sunrise—or he'll be stuck in the land of the dead forever.
The film centers around music. Miguel and Héctor perform an invigorating rendition of "Un Poco Loco" in a fast and fun tentpole sequence; de la Cruz croons "Remember Me" in a grand spectacle reminiscent of the grand musical acts of the 1950s. The songs are good, too—Gonzalez's spirited performance is fun and energizing, and Bernal's voice is full of pathos and sympathy. But Coco hits deeper than that. It's about remembering—specifically, how we connect those who have gone before us. It muses on those inter-generational connections, on how a family exists beyond its present members—beyond even death. How do we remember those who have died? —and how do we live their legacy? For Miguel and the Riveras, the answer lies in music.
Directed by Pixar veteran Lee Unkrich (Toy Story 3) from an original screenplay by Adrian Molina and Matthew Aldrich, Coco is a visual masterpiece. The animation dazzles. Pixar's typically sharp attention to detail is all here—so, too, is a vibrant and brilliant observation of light and color orchestrated by cinematographers Matt Aspbury and Danielle Feinberg. The Día de Muertos celebrations are spectacular. In the land of the dead, the early-20th century Hispanic architecture is quaint—familiar, in the best of ways. Indeed, at its finest, Coco recalls the works of the great Japanese master Hayao Miyazaki—the land of the dead seems lifted from Spirited Away. The music is top-notch. The songs, written by Germaine Franco, Adrian Molina, Robert Lopez, Kristen Anderson-Lopez, are enchanting ("Remember Me" is particularly poignant).
For a time, it seemed that Pixar Studios broke ground with every film they released—both in animation and in story-telling. That's not so much the case these days: Pixar has expanded and experimented to the point of exhaustion (think Cars 2). Coco will not fly at you with the fast wit of The Incredibles, the deep pathos of Wall-E, or the sheer creative genius of the Toy Story trilogy. It's a new type of Pixar flick: soft-spoken, quietly assertive, humble and thoughtful. At times, you'll be tempted to compare it to its predecessors (the scene in which Miguel stares wide-eyed at his TV screen recalls Wall-E almost exactly). Try not to: Coco, on its own, stands firm. It has a story to tell and a message to give. With the confidence of a song, it shouts and whoops till it has our attention, then sings to us gently as we cross from the land of the living to the dead, and back again. By the end, we're in tears, and we leave the theatre knowing it will stay in our head for a day or two. But that's fine—we can't help but hum along.
This review was written in November 2017, coinciding with the theatrical release of Coco.